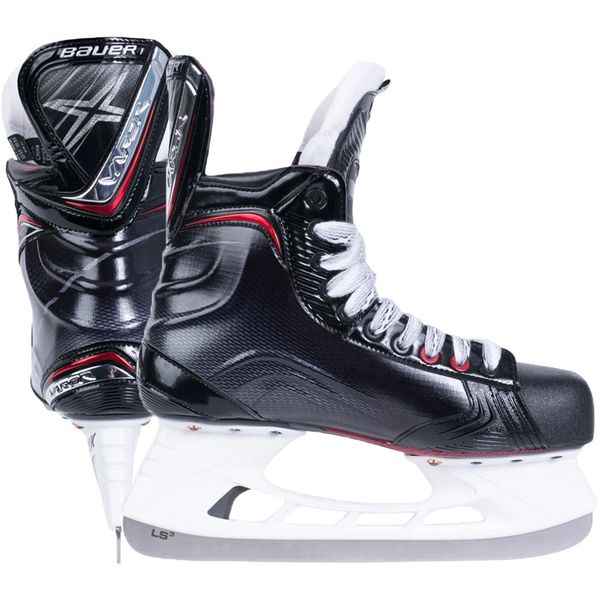 BAUER XLTX PRO+ 2017/18
The Vapor XLTX Pro+ skates combine the speed and durability of the top-of-the-line X1 and second-in-line X900 with the affordability of the X800.
The XLTX Pro+ includes the Lock-Fit+ liner, found in the Vapor X900. This feature allows you to lock your feet in place, stay dry and focus on speed, agility and overall acceleration. Also borrowed from the X900 is the Flex-Lock+ Pro Stock Tongue, which helps along the locked-in fit to create a forward flex and allow you to fly on your first step. The LS3 runner, also a feature of the X900, provides you with a long-lasting edge life, while the Tuuk Lightspeed Edge holder assists in creating a powerful turning and cornering radius, allowing you to stop on a dime and cut as much as necessary without worry of wear on your equipment.
Abrasion Ankle Pads with Comfort Edge comes from the top-of-the-line Vapor 1X. These additional pads help your feet stay locked in place to help with energy transfer, as well as comfort as the game wears along.
The XLTX Pro+ skates include the same great features of the X800 to round out a skate that players at any level will love. The CURV Composite quarter package provides protection against incoming shots, as well as comfort as the skate molds to your feet. The Lock-Fit+ Footbed with single density support and grip provides you with excellent balance and a stable feel, no matter if you're skating forward or backward. The TPU outsole is one of the strongest on the market, providing you with improved durability to stretch the life of the skate out.
Elite players will love the features of this skate, while mid-level players will enjoy all the perks of an elite skate at an excellent price point. You can have it all with the Vapor XLTX Pro+ ice skates.