BAUER X800 SENIOR SKATE 2017/2018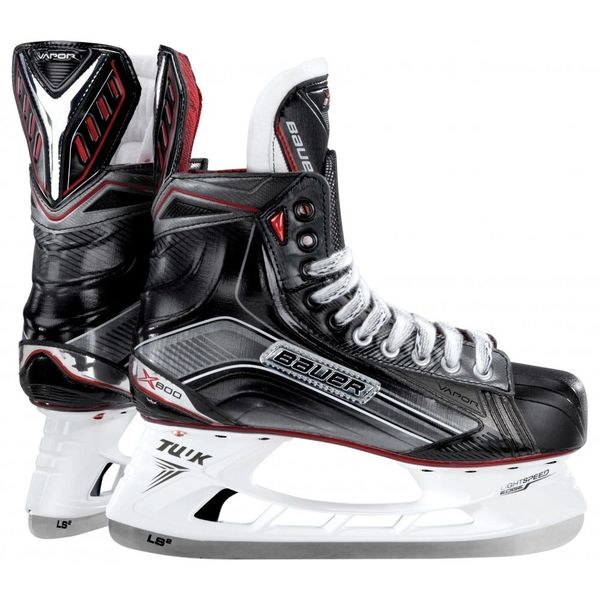 BAUER X800 SENIOR SKATE 2017/2018
Details
The Vapor X800 skate carries on the Vapor legacy as the most popular family within Bauer's 3-fit platform. While the Vapor fit may not work for every foot type, those who do benefit from its fit characteristics often swear by its "second skin" fit and feel. Its standard v-fit profile consists of a standard width through the toebox and forefoot with a low-volume, narrower fit in the heel and ankle.
The OD1N concept skate provided the inspiration behind the updated X-Rib pattern that can be found throughout the Vapor line. In addition to providing structural support to the skate, lab tests, designed to measure performance, showed that the X-rib pattern led to improvements in heel and ankle lock which resulted in quicker cross overs and tighter turns. Purposely built with a measured balance of lateral support and forward flex, Bauer uses its incredibly lightweight and responsive Curv® composite in the quarter of the X800. This technology is typically reserved for Bauer's flagship skates, so to find it at this price point is truly an added value. The 3D Lasted design provides a head start to a great fit while the fact that the Curv® composite material reacts so well to heat molding provides the final touch to get you an amazing 360° fit with minimal negative space and significantly reduced break in time.
With a reputation for its durability and moisture management properties, the X800 uses the tried and true HYDRA MAX mesh liner, which can also be found on the higher end X900 model. The 3-piece felt design of the Form Fit tongue features comfortable 48 oz white felt on the top and 30 oz white felt on the sides and includes a relatively robust and protective metatarsal guard that consists of high density foam and a plastic insert.